Each year, 2.7 million adoptable dogs and cats are euthanized in the United States, simply because too many pets come into shelters and too few people consider adoption when looking for a pet.
Our animals have come to us for a chance at a happier life and a home for life. Some have been turned over from animal control.
Many others are strays or victims of abandonment. Each one is waiting to find a new loving home.
Our kitties are raised in loving foster homes, so they are socialized, love people and have good potty habits. Some are already adjusted to busy households with dogs, other adult cats and children. Once they receive their spay or neuter surgery, they become residents of the Frisky Cat Cafe while waiting for adoption. The cafe is a great place to meet our kittens. You can play and interact with each of them so you can pick the perfect match for your family.
Adoption Fees
Our adoption fee is $145. The adoption fees that we collect help us provide food, shelter, important medical care and vaccinations for the animals. Each adoption fee includes the following for your new pet (retail value is approximately $400):
Cost of paying and neutering
Vaccinations
Microchip with free registration
Monthly flea, tick and parasite prevention
Tested negative for Feline Immunodeficiency Virus (FIV) and Feline Leukemia (FeLV).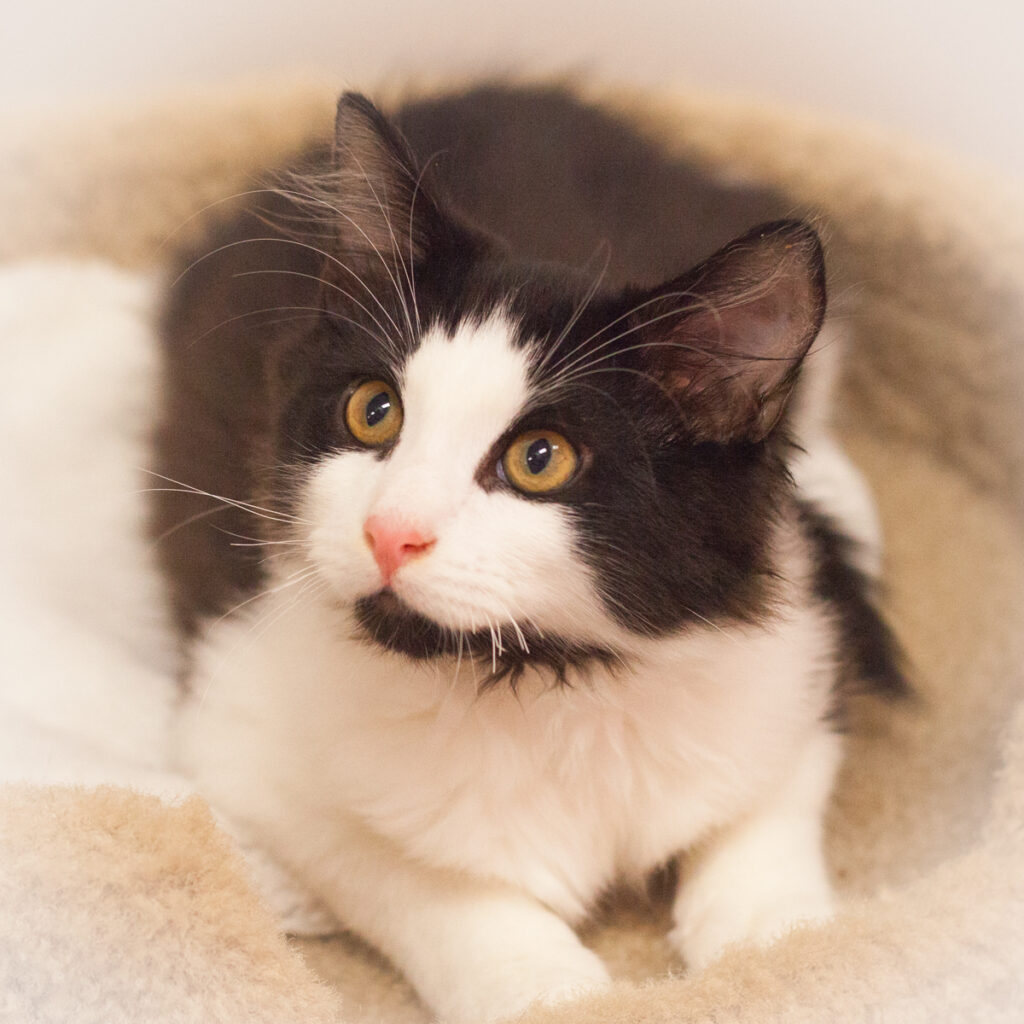 Schedule a Meet and Greet
Our available kittens are residents at Frisky Cat Cafe located at 1092 S Ponce De Leon (US 1), St Augustine, Florida 32084.  Walk ins are welcome.  We recommend making a reservation or calling ahead to make sure there is space, if your party is more than 4 persons and you are visiting on a Saturday or Sunday.  Let us know if you are coming to adopt and we can guide you our available kitties.  
Submit Adoption Application
Once you find the kitty of your dreams, submit an application.  Applicants who have not visited the cafe will not be processed until their meet and greet is completed.  The adoption application is designed to help us evaluate potential adopters. Small Lives Matter Kitten Rescue wants to ensure that the adopting family feels they are able to handle the great responsibilities that come with adopting an animal. Adoption is not first come-first serve. We adopt our animals to the best home based on the information you provide.
Application Processing
We get a lot of inquires. We try our best to respond to all applicants within 24 to 48 hours, but we are not always able to do so because we received more than one application for the kitty you have chosen.  Once your application is processed, you will be notified by email to schedule an appointment to adopt your kitty.
The best way to find out the status of an animal you are interested in adopting is to check our website. If the animal says "RESERVED," we have selected an applicant and contacted them. When an animal is adopted, they are marked "ADOPTED" on our website and on Petfinder and are no longer available. 
List of Available Cats and Kittens
Fall in love today! They are waiting to meet you!
Click image or name to see profile on PetFinder.
These tiny babies are in our foster nursery and will be arriving at Frisky Cat Cafe in a couple weeks! A vital component of our rescue is caring for the littlest kittens.
These are a few of our adorable cat and kittens who found their home for life. Not every kitty is pictured below. We have adopted hundreds just in the last year. Congratulations to all our beautiful babies who are adopted and thank you to those wonderful adopting families who made room for them in their homes.